Rating Process
This is the information about the Korea Media Rating Board.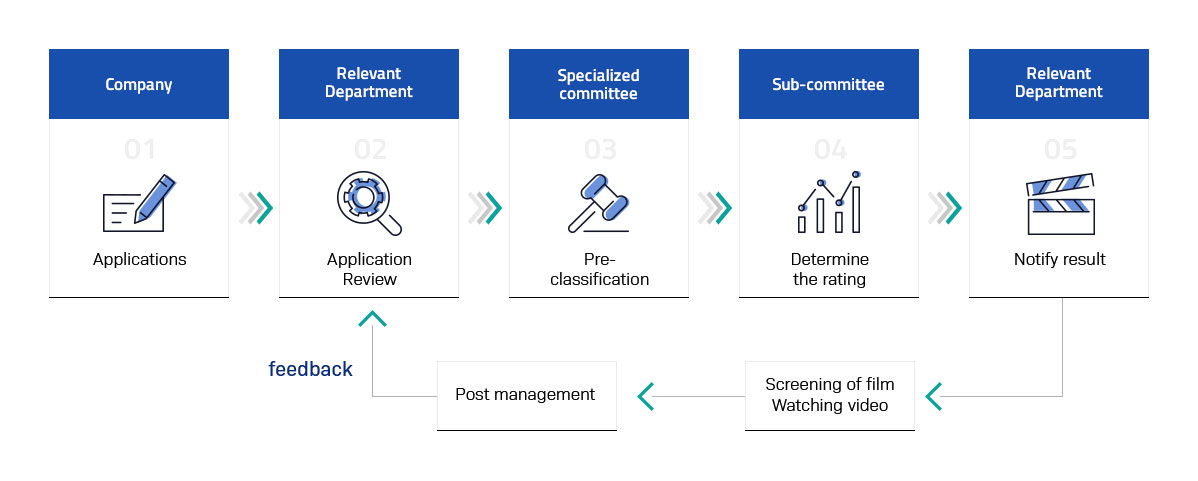 If an applicant receives a film, the specialized(pre-classification) committee reviews the contents in advance and the sub-committee determines the final rating.
To raise the efficiency of film ratings, a rating lightening process in which the sub-committee determines a rating based on the opinions of a specialized committee-man is operated.However, if the objection is suggested by the committee president or the majority of attended members of the sub-committee for the rating designated by a specialized committee-man, that film is excluded from the lightening target.
What film is the target of rating lightening?
If all classifiers of the pre-classification committee reach a consensus on the same rating with the self-evaluation of rating submitted by the applicant in terms of All, 12+, 15+ and 18+, there is no step 3.
2D film which contains identical contents as 3D format has been rated. (Including in case of applying 2D film and 3D at the same time)
Appeal : The applicant for classification may sometimes disagree with the decision of the film sub-committee, Film Appeal Board re-examine the rating.